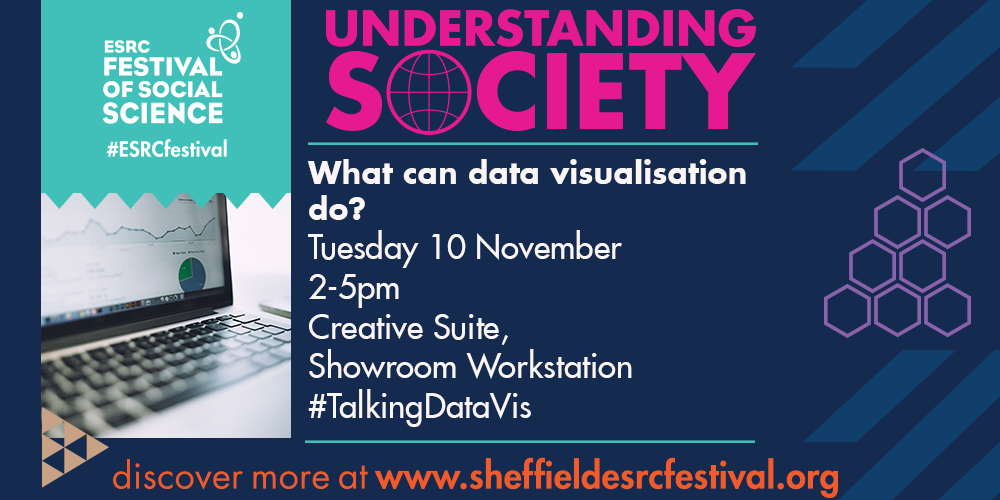 Yesterday the ESRC Festival of Social Science came to town; well OK, it's been running for a couple of days now, but yesterday was the first events that I attended.
What can data visualisation do?
At the Showroom, this event arranged by The University of Sheffield provided four provocations on different topics, followed by a panel discussion of some of the issues raised. Alan Smith opened the batting by making 'The Case for Charts,' questioning whether charts were often used simply to break up blocks of text.
Using a bar chart from a UNESCO report entitled "Gender Parity Index …," typical of the kinds of charts we often encounter in reports of this nature, Alan showed how it could be quickly amended to improve accessibility, ease of interpretation and simply allow the data to tell a more powerful story. Instead of being relegated to the tenth page, a few alterations meant that it could forefront the research from the front page; in essence, 'start with a chart.' He took us back to first principles and used Anscombe's Quartet to illustrate why we need to use charts with care, but how a well-designed, but carefully chosen chart can obviate the need for swathes of text.
Next up was Thomas Clever who offered the contention that 'Data visualisation was dead,' of course qualifying that by showing how Big Data has disappeared from the download slope of the Gartner Hype Cycle, but actually become embedded within many other aspects of our everyday lives. We're now becoming accustomed to being presented with visualisations in the media, through politics, at work and of course in advertising, although we're perhaps not yet sufficiently sophisticated in the way we interpret and interrogate the data. It's also becoming less visible and less controllable – MacData perhaps?
After the break the new presenters were charged with taking us from the general to the more specific. Valentina D'Efilippo described four of the projects with which she had recently been involved; there was even one I was familiar with – 'Field of Commemoration.' Though I would love to provide an image, I can't find one with the right licensing, but I'd encourage you to try out the interactive version at Poppy Fields, commissioned as part of the Great War Centenary commemorations.
The final session was from William Allen at The Migration Observatory, who illustrated how data on a particularly hot topic needed to be portrayed in an as accessible a way as possible, for a multitude of audiences. The data at the Observatory can be displayed in any one of a number of different ways the user chooses, however despite the compelling messages it delivers, Will was dismayed by the extent that people were unwilling to accept the evidence in front of them. Even an impressive visualisation might struggle to unseat deeply held beliefs.
In the closing session hosted by Andy Kirk, the panel discussed what data visualisations aren't (they were all unequivocal that infographics aren't data visualisations – learned something new there), how they can help with memorability (making information stick), that good visualisations evoke feelings as well as facilitating understanding, but that the audience for visualisations isn't yet sufficiently critical – ought data literacy to have a place in schools? (I offered an opinion of course!)
A couple of things struck me. Firstly that there are those in social media circles who are highly critical and dismissive when people make claims about 'preparing today's students for jobs which don't exist yet.' The four presenters today had titles which meant they could be considered 'data visualisation specialists.' I'm pretty sure that option wasn't on the list of careers I could have chosen from, or even a potential career for the last cohort of students I taught. Secondly, how refreshing it was to see PowerPoint being used by people with more than a little understanding of the elements of design. Instead of delivering information, that much maligned tool was helping to tell a story; a lesson for us all there perhaps?
Foundational 21st Century Literacies
This session was perhaps targeted more precisely at educators, outlining 'The Street,' a project aimed at developing literacy skills of primary aged pupils. This was a collaborative venture between Sheffield Hallam University and teachers in a couple of local primary schools (Will Baker, Adam Bamber and Dan Power). The session was facilitated by Professor Cathy Burnett and Professor Guy Merchant, but I'm sure they'd concede that the stars were the primary teachers involved in the project who conveyed their enthusiasm with such aplomb
The premise hinged on teachers undertaking a collaborative project across two schools, but one in which their pupils would also collaborate, as they develop their literacy skills through the medium of a blog. 'The Street' was conceived by the teachers themselves, simply as an imaginary location from which a story would unfold; a story crafted by the students themselves. Minimal rudimentary information in the form of a brief audio soundscape was given to the pupils who could then decide what they thought the sounds evoked, in the context of a street. Working in groups, they then posted their thoughts to a blog, shared between the two schools. With a few occasional prompts to ensure the unfolding story addressed the learning intentions the teachers had, the pupils had free reign over which directions their story should take. The sense of empowerment and agency was one of the most powerful elements to arise from the project, together with how inclusive it had been at drawing in pupils who might normally be considered reluctant writers. This and many other positive aspects were used as a hook to encourage teachers in the audience from other schools to consider becoming involved in extending the project; as small clusters collaborating on their own projects, rather than extending 'The Street' to the point where it might become unmanageable.
In the discursive session where, in small groups, we were encouraged to consider the project from our perspectives, and in the plenary which followed, a few things piqued my interest. That there are still teachers unaware of what 'green-screening' entails and how it might be used in an educational context. I'm not sure why that surprised me; it is after all only a couple of months since I was working with teachers full time! It was somewhat disheartening to hear how poorly provided for some primary schools are in terms of technology – one school of over 500 pupils had nothing more than a single IT suite and sixteen iPads. That must be so tough for any teachers there who have the will and desire to push what they're doing with digital technologies and media, yet not having the wherewithal to follow that passion. It is clearly too long since I was in our state system, but if that's what folks are having to cope with these days (amongst other pressures!), I'm not disappointed to be out of it. I was heartened though that those teachers involved in the start of the project were all Twitter users, didn't make a big deal of it and acted though it was a natural part of their practice. Perhaps there is hope after all.